FRIENDS OF LITTLE SAIGON'S 5TH ANNIVERSARY CELEBRATION
Want to be a vendor? There are a few spots left, apply here!
Interested in volunteering? Register here!
_______________________________________________________________________
Vulcan Inc. presents the
4TH ANNUAL CELEBRATE LITTLE SAIGON
CLS is an outdoor summer festival celebrating Vietnamese American food, arts, culture, and community held in Seattle's Little Saigon.
FEATURING:
Authentic Vietnamese Cuisine
Carnival games with prizes
Pho Eating Contest
Live Entertainment from local artists & groups
Cooking Demo
Children's Arts & Crafts
Check in weekly for featured vendors and activities!
BROUGHT TO YOU BY:
Tet In Seattle
Heartland, LLC
Marpac Construction
GGLO
Cascadia Consulting Group, LLC
Khue Dang – Union Bank
Coca Cola
JP Morgan Chase Foundation
Only in Seattle – Office of Economic Development
Vietnamese Friendship Association
SCIDpda
Kim Ngoc Jewelry
Pho So 1
Saigon Bakery & Bubble Tea
ENTERTAINMENT SCHEDULE:
11:00 – NW Kung Fu & Fitness | Lion Dance
12:00 – Tai Nguyen | Jazz Musician & Vocalist
12:30 – Mai Huong | Vocalist
1:00 – Massive Monkees | Break Dance
2:00 – Van Hanh | Lion Dance
2:30 – Eating Contest | Cream Puff (kids 7-12) & Pho (adult 18+)
3:00 – Vietnamese Senior Association | Dance Lessons
3:30 – Huong Viet Performing Arts Group | Traditional Music
4:00 – Quest Kids Clothing | Fashion Show
4:30 – Danny Vuong | Vocalist
5:00 – Tiffany Vo & Tamanh Le | Vocalists
FOOD VENDORS:
Tamarind Tree Restaurant – Cooking demo during event!
Sub Sand
Pink's Ice Cream
Huong Binh Restaurant
Hard Wok Cafe
People of the Chubbs
Hue Ky Mi Gia
I ♥ Wasabi
Saigon Bakery & Bubble Tea
Saigon Vietnam Deli
Thanh Tam Restaurant
Loving Hut
Interested in being a VOLUNTEER? Register here: https://www.surveymonkey.com/s/CLSvolunteers
__________________________________________________________________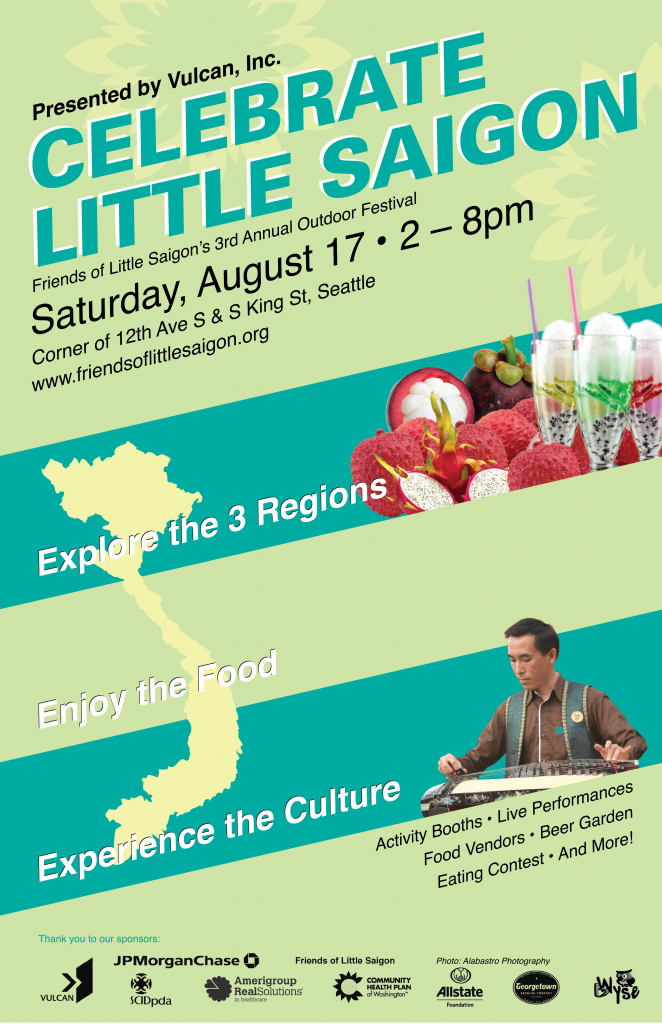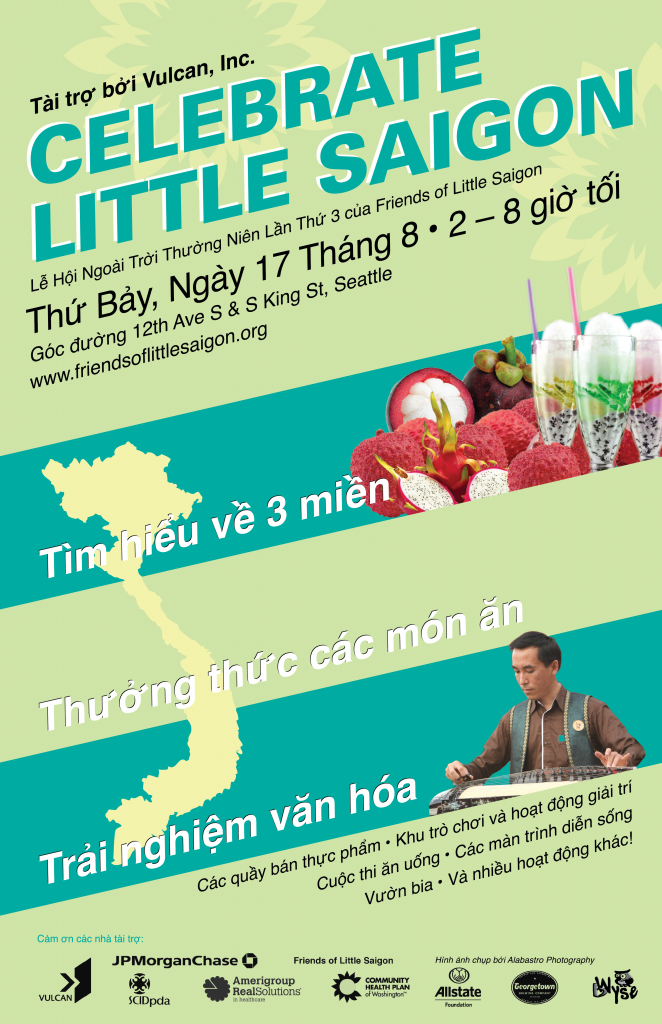 ___________________________________________________________
LocatIon: Corner of 12th & S Jackson St. (1043 S Jackson St)
Time: 2-8PM
Programs & Activities
Featuring food vendors
Chu Minh Tofu
Huong Binh
Lam's Seafood
Tamarind Tree
Pink's Ice Cream
Games & Activity booths
Face Painting
Balloon Animals
Photobooth
Giveaways
Eating Contest
Beer Garden
Live performances featuring
Vovinam Martial Arts
Huong Viet Performing Arts Group
Vietnamese Senior Association
Art & Cultural Exhibit
…And many more!
Check out some of the awesome activities & performances from last year in our gallery!
Thank you to our sponsors
Vulcan Inc.
SCIDpda
JP Morgan Chase
Amerigroup
Community Health Plan of WA
Allstate Foundation
Georgetown Brewing Co.
bWyse Internet Marketing
Like us on facebook.com/friendsoflittlesaigon! 
Want to join the festivities? Become a volunteer!
Celebrate Little Saigon (Lễ Hội Sài Gòn Nhỏ)
Lễ Hội Ngoài Trời Thường Niên Lần Thứ 3 của Friends of Little Saigon
Tài Trợ Bởi Vulcan, Inc.
Tìm hiểu về 3 miền
Trải nghiệm văn hóa
Thưởng thức các món ăn
Ngày: Thứ Bảy, Ngày 17 Tháng 8, 2013
Giờ:2:00 chiều đến 8:00 tối
Địa điểm: Góc của  đường 12th Ave S. & S. Jackson St. (Chu Minh Tofu)
Chương trình và sinh hoạt:
Các quầy bán thực phẩm
Khu trò chơi và hoạt động giải trí
Các quà tặng
Cuộc thi ăn uống
Trình diễn thời trang
Vườn bia (khu phục vụ bia và thức ăn)
Các màn trình diễn sống
Triễn lãm nghệ thuật và văn hóa
Cảm ơn các nhà tài trợ:
Vulcan, Inc
SCIDpda
JP Morgan Chase
Amerigroup
Community Health Plan of WA
Allstate Foundation
Georgetown Brewing Co.
bWyse Internet Marketing
"Thích" chúng tôi trên facebook.com/friendsoflittlesaigon!
_________________________________________________________________________
"For an evening of food, fun, and culture with the whole family!"
Outdoor movie screening of "The Owl and the Sparrow" at dusk
Enter the Ao Dai Fashion Contest for a chance to win cool prizes
Enjoy authentic live musical performances (schedule coming soon!)
Taste sweet and savory treat from local businesses
Games and activities for all ages
Launch of 3rd Annual Exposed Photo Contest
Free Admission!
"Một buổi tối đầy với những món ăn    ngon, trò chơi vui nhộn và những màn trình diễn văn hóa hấp dẫn!"
Xem bộ phim đoạt giải – "Cú và Chim Se Sẻ" (chiếu ngoài trời)
Mặc áo dài khi tham dự để có cơ hội dành được những giải thưởng hấp dẫn
 Nghe những màn trình diễn ca nhạc sóng
Thưởng thức những món ăn hấp dẫn và ngon miệng từ những doanh nghiệp địa phương
Tham gia các trò chơi lễ hội cùng với gia đình và bạn bè
Vào cửa tự do!
PRE-REGISTER FOR THE AO DAI CONTEST ONLINE TODAY!
Participating Performances & Vendors:  
Photo Booth by Phan Photography
Huong Viet Performing Arts Group
VoVinam Lion Dance
Gia Đình Phật Tử Liễu Quán-Chùa Cổ Lâm Dance group
Saigon Rock
Lam's Seafood Deli
Tamarind Tree Restaurant
Shabu Chic
Pho Mama Sandwiches
and more…
Thanks to our sponsors:                                                                                                   JP Morgan Chase                                                                                                          Seattle Office of Arts & Culture                                                                                      Seattle Department of Neighborhood                                                                        SCIDPDA                                                                                                                       Vulcan Inc.                                                                                                                              Lam's Seafood Market                                                                                                       Viet-Wah Supermarket                                                                                                   Thanh Son Tofu                                                                                                              Robert Chinn Foundation                                                                                                  Kim-Ngoc Jewelry                                                                                                        Jackson Vision Clinic                                                                                                            An Dong Herbs
_________________________________________________________________________
Friends of Little Saigon presents the 2011 Celebrate Little Saigon. The first ever festival and night market event hosted in Little Saigon.
"Come join us for an evening of food, fun, and community to celebrate the Vietnamese culture in Little Saigon!"
• Delicious food and drinks from neighborhood businesses
• Local Vietnamese performances
• "Three Seasons" Movie Screening at dusk
• Launch of the 2nd annual Exposed Little Saigon Photo Contest
** Vietnamese Translation **
Nhóm Bạn bè của Sài Gòn Nhỏ xin giới thiệu
"Hãy đến tham gia với chúng tôi trong một buổi ăn uống, vui chơi, và gặp gỡ để giới thiệu văn hóa Việt Nam tại Sài Gòn Nhỏ!"
• Món ăn ngon và thức uống từ các doanh nghiệp khu phố
• Có nghệ sĩ người Việt ở địa phương trình diễn
• Chiếu phim "Ba Mùa" sau khi mặt trời lặn
• Phát động Cuộc Thi ảnh Exposed Sài Gòn Nhỏ hằng năm lần 2
Thanks to our sponsors:
Hue Ky Mi Gia
Lam's Seafood Market
Thanh Son Tofu
Long Provincial
Seattle Parks & Recreation
Seattle Chinatown International District Preservation & Development Authority